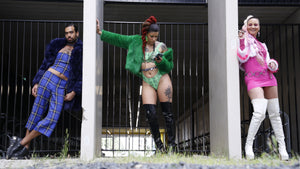 PARTYWEAR, RAVEWEAR, CLUBWEAR & FESTIVALGEAR
Welcome to FAC SHOP
FAC SHOP is an Amsterdam store that sells party wear, club wear, ravewear and festival wear. Everything is possible and allowed during the night, we free spirits love to discover and go on an adventure. We believe that putting together your outfit is part of the party experience itself. We encourage individuality, and we understand that in a world based mainly on fast fashion, it can be difficult to find clothes that feel like they were made for you and just for you!
We are FAC SHOP and we are here for your crazy adventures, outfits and love.
FAC FAST FASHION!
We offer a versatile selection of carefully selected (mostly 90s and 00s) vintage, handmade clothing and accessories from international, but especially local and sustainable brands.
FAC SHOP Amsterdam
Jodenbreestraat 50
Amsterdam, The Netherlands
Opening hours:
Tuesday to Saturday, from 12-18